Jubilee Field
Kosmos opened a significant new hydrocarbon province, the Tano Basin, with the discovery of the Jubilee Field offshore Ghana in 2007. The Jubilee Field straddles both the West Cape Three Points and Deepwater Tano blocks. Success at Jubilee was the result of the company's identification of the overlooked Upper Cretaceous structural-stratigraphic play concept along the Transform Margin of Africa.
Kosmos served as Technical Operator for Development at Jubilee. The Jubilee Field development was designed in a phased approach to bring first production on quickly and to apply early findings to follow-on phases. First production came in late 2010, just three and a half years from the initial discovery, a record timeframe in deepwater FPSO developments.
The success at Jubilee de-risked additional opportunities, and Kosmos and its partners have made a number of additional oil and gas-condensate discoveries.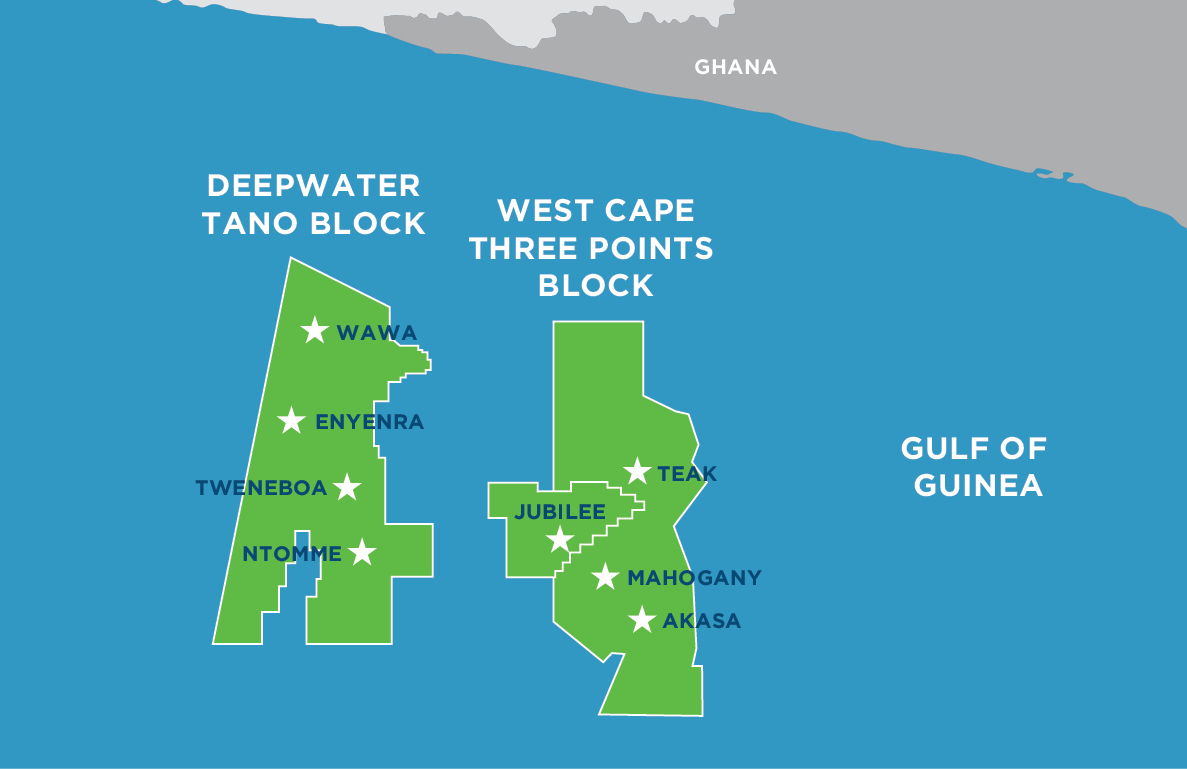 JUBILEE UNIT AREA
PARTICIPATING INTEREST
TLW (Op)
38.98%
KOS
38.61%
GNPC
19.69%
PETRO SA
2.72%
Total
100%
Jubilee Unit Area
Participating Interest
TEN Fields
The Deepwater Tano Block is adjacent to the West Cape Three Points block in the Tano Basin offshore Ghana. Kosmos entered the block to further expand our position in the basin, capturing a leading position in this Late Cretaceous play opportunity. An appraisal well of the significant Jubilee Field discovery was drilled on the Deepwater Tano block in 2007, confirming the field as a major discovery and the Tano Basin a new petroleum system.
Kosmos and partners discovered the significant Tweneboa gas-condensate accumulation in 2009, followed by the Enyenra oil field in 2010. Further drilling success resulted in the discovery of oil at the Ntomme field and oil and gas-condensate at Wawa in 2012. Initial development of the discoveries on the Deepwater Tano block focused on the Enyenra and Ntomme oil fields, using a floating production, storage and offloading (FPSO) vessel.
Production from Tweneboa, Enyenra, and Ntomme (TEN) began in 2016.
TEN FIELDS
PARTICIPATING INTEREST
TLW (Op)
54.84%
KOS
20.38%
GNPC
20.95%
PETRO SA
3.82%
TEN Fields
Participating Interest