Environment
Kosmos is committed to protecting the environment in which we operate. We believe that reducing our environmental impact and managing and mitigating environmental risks is integral to responsible operations.
Kosmos conducts Environmental, Social and Health Impact Assessments (ESHIAs) prior to the start of material operational activities. We only proceed with such an activity once we have assessed and, where necessary and practicable, put into place measures to avoid or mitigate material adverse impacts.
Our Climate Change Policy, contained in our full Climate Risk and Resilience Report, outlines our commitments to:
Integrate climate change into our business strategy
Measure, reduce, and mitigate our own emissions
Establish strong internal governance of climate change, and
Report on our progress
Our broader environmental policies are housed within The Standard and outline expectations and performance measures for employees, contractors and partners as we assess, plan, and conduct work. In addition to these formal policies, we have measures and processes in place to protect and enhance biodiversity and the natural environment in and around our operations.
Performance
The environmental data presented below is for Kosmos operated assets only. Waste and air emissions are measured in tons, with greenhouse gas emissions measured in metric tons of CO2 equivalent. The data represents drilling rigs as well as seismic and support vessels.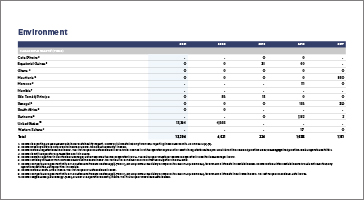 See Environmental Data