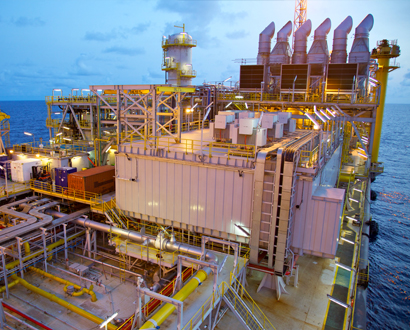 Kosmos Energy's operations in Ghana include the Jubilee Field, the production asset developed from our major basin-opening discovery in 2007, as well as the nearby TEN fields.
As part of our company's overall strategy to measure and reduce greenhouse gas emissions from our own operations as far as reasonably practicable and to mitigate emissions that we cannot avoid, we are pursuing specific strategies in Ghana.
While we are not the operator of the Jubilee or TEN production assets, we continue to have a strong voice in the partnership, and we are using that voice to encourage emission-reduction measures.
In 2022, we worked with our operating partners to develop an approach to measure the Scope 1 emissions associated with our equity share of non-operated assets in Ghana, as well as in Equatorial Guinea, the Gulf of Mexico, Mauritania and Senegal.
To lower those emissions, Kosmos and our partners in Ghana have agreed to eliminate routine flaring – the burning of natural gas associated with oil extraction – at the Jubilee and TEN fields by 2025.
By 2025, the partnership will take steps toward this goal by debottlenecking the gas systems on Jubilee and TEN, as well as working with the Government of Ghana to increase gas off-take. As a first step, the partnership modified the gas handling system on the Jubilee FPSO (Floating Production Storage and Offloading) vessel, which is expected to enable the operator to inject and export more gas volumes. The work to debottleneck Jubilee was completed in 2023, and work on TEN is expected to begin later in the year.
The partnership is committed to working with the Government of Ghana to develop gas resources providing low cost, lower carbon power to West Africa. This combination of activities should significantly reduce overall emissions from Ghana operations.
Additionally, Kosmos is mitigating remaining emissions through high quality carbon offset projects in the regions where Kosmos has significant operations. These carbon offsets also provide community and biodiversity co-benefits in line with UN Sustainable Development Goals.
In 2019, Kosmos entered into an agreement with Shell Energy North America (US), L.P. (Shell Energy) covering two leading, established third-party reforestation projects in key Kosmos geographies, including in Ghana.
The Form Ghana Reforestation Project is located in the Asubima and Afrensu Forest Reserves in the Ashanti region of Ghana. The project aims to reforest 18,000 hectares (ha) of land during its lifetime, with 7,500 ha replanted to date. On average, an additional 1,000-2,000 ha are scheduled to be replanted per year. By 2025, the project is expected to sequester over 850,000 tons of CO2e. The project also involves harvesting of high-quality timber as well as intercropping between trees, providing an additional sustainable revenue source for the government and local communities beyond carbon revenue.
As an oil and gas production and exploration company, Kosmos cannot completely eliminate all greenhouse gas emissions. But in Ghana and everywhere we operate, we remain committed to reducing emissions as much as practicable, while mitigating the impact of these emissions through nature-based offsets and by supporting a Just Transition that delivers tangible economic and social benefits.