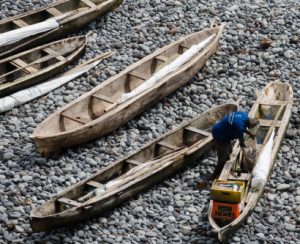 Kosmos Energy supports fishing communities in many of the nations in which we operate.
Consulting and Supporting Fishing Communities
Since we typically operate offshore of coastal communities, Kosmos has taken a special interest in supporting local fishing efforts. In every country where we operate we consult closely with the local fishing community, addressing concerns about access to fishing grounds, increased traffic, impact on fish stocks and more. We typically conduct detailed assessments that outline any impact our operations will have, and we support local initiatives to enhance the effectiveness of local fishing. We understand that we must share the ocean.
Communicating Before Seismic Surveys
Kosmos engages extensively with coastal communities early in our project lifecycles, before conducting seismic surveys. We hold workshops and communicate through local channels the details about what a seismic survey is and any restrictions it may involve to specific areas. We also hire Fisheries Liaison Officers from the local population to sail on vessels involved in the survey and serve as familiar points of contact for artisanal fishermen and commercial fleets.
Making a Difference
Kosmos support for local fishing includes:
* Providing improved fish smoking ovens to communities in Ghana.
* Providing GPS systems, solar lamps and life vests to fishing associations in Senegal.
* Providing safety gear and fish processing equipment to fishing communities in Mauritania.
Kosmos is committed to working with local partners to improve the quality of life in fishing communities.