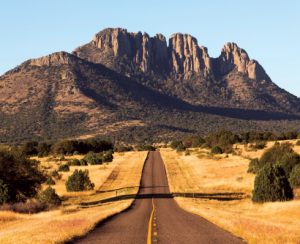 Kosmos Energy contributes to the conservation of a Texas natural landmark.
A Texas Treasure
With our headquarters in Dallas, Kosmos is committed to helping preserve and sustain special parts of the state of Texas. Sawtooth Mountain, an iconic peak rising nearly 8,000 feet in the Davis Mountains of West Texas, is known for its scenic beauty and for providing a habitat for black bears, mountain lions, golden eagles and rare plants and animals found nowhere else in the state.
A Partnership for Protection
Kosmos, along with other portfolio companies of the private equity firm Warburg Pincus, provided a combined $1.2 million in funding to support the Nature Conservancy's efforts to purchase land and to establish two conservation easements on Sawtooth Mountain. The easements allow the Nature Conservancy to safeguard more than 2,500 acres on Sawtooth Mountain. In states such as Texas, where 95 percent of land is privately owned, conservation easements are a crucial tool to protect important lands and waters.
Kosmos' contribution will help safeguard more than 2,500 acres on Sawtooth Mountain.