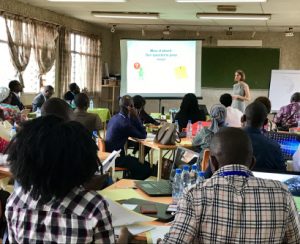 Kosmos helps build capacity for the growing oil and gas industry in Senegal.
Committed to Building Capacity
Kosmos believes in helping the countries in which we operate increase their capacity to successfully participate in the oil and gas industry and related sectors.
Workshops to Share Expertise
One of the key strategies for encouraging increased capacity is through sponsoring and participating in an array of educational workshops, as we are doing in Senegal.
For example, Kosmos recently held a capacity building workshop for Senegalese stakeholders in the oil and gas value chain, in partnership with the Natural Resource Governance Institute (NRGI).
To build capacity in environmental management in Senegal and other countries, Kosmos facilitated meetings between Senegal's Department of Environment and Classified Establishments and officials in Ghana's Environmental Protection Agency and in Cote d'Ivoire's Agence Nationale De l'Environnement, to share lessons learned about how to regulate and monitor offshore oil and gas activities.
In Senegal, Kosmos led or participated in workshops on topics including:
* Transparency
* Local Content
* Good Governance of Natural Resources
* Fundamentals of the Oil and Gas Industry