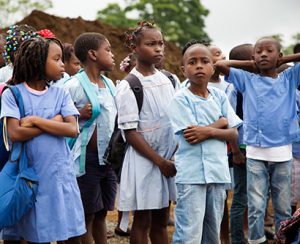 São Tomé and Príncipe has high levels of literacy compared to many other developing countries. However, the country's young demographic – over 60% of the population is under the age of 24 – presents significant challenges in the education sector which the government is eager to address.
According to recent government data, the key challenges are:
Class size: an average of 80 students per classroom
Pace of development: Inadequate use of technology due to lack of infrastructure and training
Instruction: Insufficient number of teachers, many of whom lack necessary training
Thus, the goals of the education initiative include improving access to quality education, reducing the average number of students per classroom, and preparing students for the future labor market.
Along with our partners, Kosmos has agreed to build two new secondary schools and associated facilities in Santana and Monte Café and add classrooms and ancillary offices to an existing school in Neves.
Once these projects are completed, the Ministry of Education, Culture, and Science will take responsibility for staffing the schools with qualified teachers or teachers-in-training, as well as the maintenance and repair of the classrooms and facilities.
Kosmos has also procured two minibuses that are now used to transport teachers to remote schools in Porto Alegre and Santa Catarina.
This initiative is being overseen and monitored by a steering committee comprised of Kosmos, the Ministry of Education, Culture and Science, and ANP-STP. Kosmos is currently working with the Ministry of Education, Culture, and Science and ANP-STP to move the project forward and ensure high standards for construction.