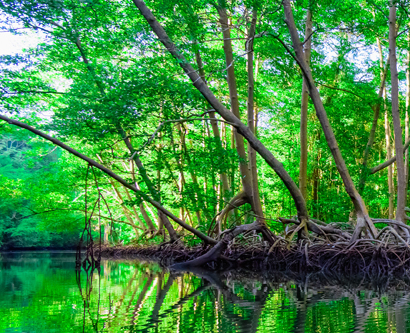 From 2016 to 2020, Kosmos supported a project to restore mangroves and reverse coastal erosion in Suriname.
Missing the Mangroves
For centuries, Suriname's mangroves have protected the country's coast, providing an important level of protection against flooding and erosion. However, pressures of increasing population and other factors have caused the diminishment and disappearance of many mangroves. North of the capital of Paramaribo, the area of Weg naar Zee, for example, has experienced frequent flooding and significant erosion in recent years after the loss of mangrove forests.
The flooding and rising sea level have impacted nearly 3,000 people in the area, including fishermen, farmers and bee keepers. Important cultural and religious sites are also threatened.
A Partnership for Protection
Kosmos joined Conservation International and Anton de Kom University of Suriname in a project to mitigate coastal erosion at Weg naar Zee by building Sediment Trapping Units (STUs) that work to restore mangrove swamps. 
Composed of walaba wood and bamboo, the permeable STU structures capture sediment during low tide, creating conditions favorable for mangrove growth. Young mangrove trees, arising naturally and planted by researchers, are then able to grow in the newly formed mud banks.
With the help of Kosmos, about 5,000 young mangrove trees were planted, and roughly 10,000 more are being nursed to later plant in the STUs. 
Rich in biodiversity, mangrove swamps are among the most effective nature-based carbon capture solutions, sequestering up to an estimated four times the amount of carbon as rainforests.
Kosmos' mangrove restoration work further contributes to sustainable development in local communities by training workers to serve as "Rangers" that provide mangrove tours to interested stakeholders. The tours are expected to generate income and make the project self-sustaining.