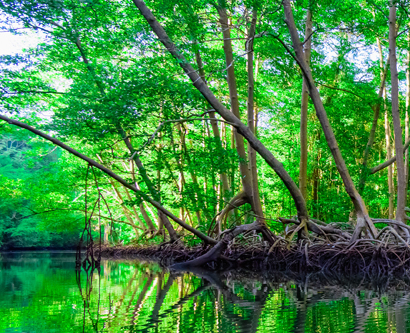 Kosmos Energy supports a project to restore mangroves and reverse coastal erosion in Suriname.
Missing the Mangroves
For centuries, Suriname's mangroves have protected the country's coast, providing an important level of protection against flooding and erosion. However pressures of increasing population and other factors have caused the diminishment and disappearance of many mangroves. North of the capital of Paramaibo, the area of Weg naar Zee, for example, has experienced frequent flooding and significant erosion in recent years after the loss of mangrove forests.
The flooding and rising sea level have impacted nearly 3,000 people in the area, including fishermen, farmers and bee keepers. Important cultural and religious sites are also threatened.
A Partnership for Protection
Kosmos has joined Conservation International and Anton de Kom University of Suriname in a project to mitigate the coastal erosion at Weg naar Zee by building Sediment Trapping Units (STUs).
These structures are permeable and promote sediment deposition, creating conditions favorable for mangrove growth. Young mangrove trees, arising naturally and planted by researchers, will be able to grow in the newly formed mud banks.
Measuring the success of this program will be a key step to rolling it out in other regions. Professor Sieuwnath Naipal of the University noted: "With the much needed measurement equipment that we obtained with Kosmos' support, we can keep better track of our interventions. I believe that the deployment of these instruments is helping to form new ideas on mangrove rehabilitation in Suriname."
By supporting the building of STUs in Suriname, Kosmos is helping fight coastal erosion and rehabilitate much-needed mangroves.