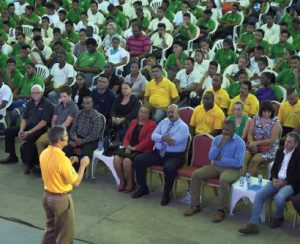 From 2011 to 2020, Kosmos operated in Suriname. While in the country, we helped to
foster a strong safety culture in technical workers.
Sharing Our Safety Expertise
When Kosmos learned about a fatality at a technical school in Suriname, we took the occurrence as an opportunity to use our experience to help instill a more safety-focused culture at the school and related institutions.
Safety is critical for Kosmos and our partners, and quality technical schools such as the Natuurtechnisch Instituut (NATIN) in Paramaribo play a critical role in equipping workers with the necessary skills and awareness to accomplish tasks safely.
Launching a Safety Culture Program
With a vision of establishing a safe learning and working environment for all students and staff members, Kosmos launched a multi-year safety culture program at the NATIN campus. The campus included two other schools, the Surinaamse Technische School 2 (STS2) and Avond Middelbare Technish Opleiding (AMTO).
The safety program was developed in consultation with staff at the schools and with Suriname's Ministry of Education and Staatsolie, the national oil company.
The training providers selected were:
SafeStart, a global "train-the-trainer" program teaching behavioral-based safety techniques.
The National Examination Board in Occupational Safety and Health's (NEBOSH) "Health and Safety Foundations at Work" course, an accredited program teaching practical skills in risk identification and reduction.
The program's kick-off was held at the National Indoor Stadium to accommodate all 2,325 students at once.
As Suriname's extractive industries continue to grow, Kosmos wants to help integrate a culture of safety into the nation's vocational technical education in order to enhance the safety of the Surinamese workforce for years to come.