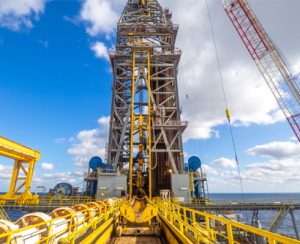 One of the most important steps towards achieving our carbon neutrality target is spotting,
understanding and addressing emissions spikes in real-time. While Kosmos has long collected emissions information, we were limited in our ability to manipulate the data to predict trendlines or adjust our
operations to mitigate spikes as they occurred.
To solve this problem, Kosmos worked with a leading data analytics company to produce a real-time Environmental Reporting Application. The application digitizes environmental reporting on carbon emissions and waste generated in our operations, and contains six modules that capture fuel data and associated emissions, mud recordings, solid waste, wastewater, drill cuttings, and E&P waste.
The interactive app is accessible by desktop and mobile device, and allows users to view historical data, track real-time information, and predict future emissions trends based on activity level. By implementing the application, we increased data accuracy, eliminated manual data entry, and can now discern patterns that will inform ongoing emissions reduction initiatives.
Learn more about the Environmental Reporting Application.