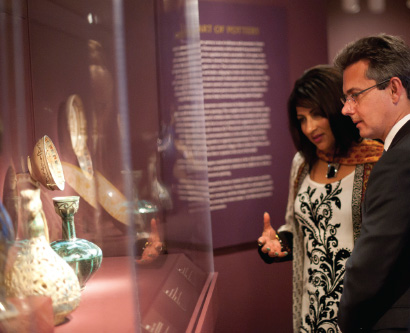 In 2015, the Dallas Museum of Art (DMA) announced Kosmos as the presenting sponsor of the Keir Collection of Islamic Art for its inaugural years of exhibitions and installations. Assembled over the course of five decades by noted art collector Edmund de Unger (1918-2011), the Keir Collection is recognized by scholars as one of the world's most geographically and historically comprehensive, encompassing almost 2,000 works in a range of media that span 13 centuries of Islamic art.
Kosmos' partnership with DMA is an extension of our desire to engage with the communities where we live and work, and foster appreciation for the art and culture of these communities. The partnership between the museum and the company provides $800,000 of support over five years for a series of special exhibitions, installations in the museum's collection galleries, and a prospective touring exhibition. The sponsorship also includes resources to facilitate loans of items from the Keir Collection to other U.S. and international institutions.
In 2017, the DMA opened The Keir Collection of Islamic Art Gallery in a newly redesigned gallery space that increased the number of works on view from the collection, as well as retained several important masterworks that were on view in the first exhibition. The 2015-2016 exhibition, Spirit and Matter: Masterpieces from the Keir Collection of Islamic Art, showcased more than 50 masterworks from the collection, marking the first time many of the featured works had been on display in North America. More than 350,000 people have visited the Keir Collection of Islamic Art Gallery and its related exhibitions.
Although the process of bridging cultures begins with the preservation of historic artifacts, it develops most fully through the study of art and what it reveals, not just about the artists and the works themselves – their form, their style, and their content – but also the social, political, and cultural circumstances that shaped them. When this knowledge is shared, it becomes a catalyst for deeper understanding and greater trust among societies.
The people of Dallas will enjoy the fruits of the scholarship now taking place at the DMA on the Keir Collection and will be able to view and learn from the collection for free. By supporting the display of the Keir Collection – and the scholarship and knowledge it has and will continue to generate – we are proud to play a role in our United States home, Dallas, for the benefit of increasing the understanding of people everywhere.