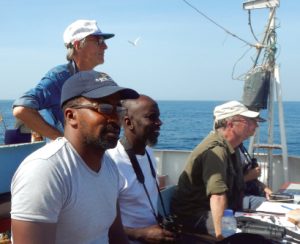 Kosmos Energy is an active participant in a public-private partnership that supports biodiversity in Mauritania.
Promoting Marine Research and Policy Development
Mauritania's Biodiversity Oil and Gas Program (BGP) is a multi-stakeholder initiative supported by the nation's Ministry of Environment and Ministry of Energy.
Kosmos is engaged in a multi-year partnership with the BGP team and is providing support for marine research and policy development. Our participation includes sponsoring BGP researchers who monitor marine mammal and seabird activity on extensive marine surveys offshore Mauritania. Information gained from these surveys is to be featured in a forthcoming Marine Biodiversity Atlas of Mauritania.
Striving for a Positive Impact

Kosmos welcomes the opportunity to be a part of the BGP and to reassure stakeholders, including those involved in fishing and scientific endeavors, that we understand their concerns and will not only work to mitigate social and environmental risks, but also to create a positive impact in the areas in which we operate.
The BGP brings stakeholders together to improve marine biodiversity protection, regulatory capacity and engagement among the various groups that use the ocean.