Society and Communities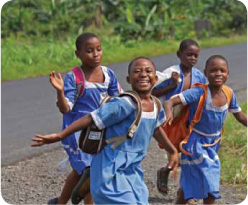 Strong relationships with stakeholders in the countries and communities where we operate create mutual value and are central to our success. By taking a collaborative approach, acting in an open and accountable manner, contributing to development and respecting human rights, we work to be a welcome investor. While our legal license to operate is granted by national governments, we seek to obtain the broad support of, and bring sustainable benefits to, the communities directly associated with our operations.
Kosmos is committed to understanding the direct and indirect effects of our activities on people and communities. We inform local communities of our plans and seek to ensure that they are engaged and kept informed about our activities through accessible and culturally appropriate methods of communication. We identify other relevant stakeholders and consult with them throughout the project life cycle on matters that affect them in order to understand their perspectives and any concerns. These consultations at the national, regional and local levels allow Kosmos to share information, understand concerns and build relationships based on collaboration and partnership.
Corporate Social Investment:
Building Human Capacity and Economic Opportunity
At Kosmos, we strive to maximize the benefits that local residents and businesses derive from successful exploration and production activities, particularly in nations that are relatively new to hydrocarbon development. This includes creating direct benefits from our own operations and working to ensure that the activities of those acting as our partners, including national oil companies and other international investors, generate as much broadly-based economic opportunity as possible. We recognize that our principal beneficial impacts flow from our core operations. However, we undertake a variety of Corporate Social Investment (CSI) activities as well as seeking to support capacity-building programs. These programs enhance the ability of governments new to oil and gas operations in regulating and managing oil and gas operations and in delivering improved services made possible by oil and gas tax revenues.
We frame our CSI programs around the theme of "Building Human Capacity and Economic Opportunity." We believe this consistent theme, while underscoring the tangible, much-needed benefits our investments provide to people living in the countries where we operate, will also provide practical benefits to the Company by creating greater clarity about the way we view these activities. We want to highlight to our employees, contractors and to external stakeholders that our CSI activities are an integral part of our larger business plans and objectives rather than discrete, unrelated programs.
Our decisions when identifying, designing and implementing CSI projects are guided by the following principles:
We take a participatory approach to understand needs and seek to create broad-based benefits
We invest in projects that are sustainable and that aim to build local capacity or economic opportunity
We require accountability and evaluate CSI based on outcomes
We integrate CSI with our core business and other activities
Social Investment Spending1
2012
2013
Ghana
$373,418
$404,114
Jubilee Unit2
$2,699,280
$4,738,672
Cameroon
$34,178
$185,000
Morocco
$79,994
$143,830
Suriname
$45,940
$94,801
Mauritania
N/A
$20,211
TOTAL
$3,232,810
$5,586,628
Grievances Logged / Grievances Resolved (Ghana)
Ghana3
N/A
0/0
Whistleblower Program Reports4
N/R
4
Locally Sourced Goods And Services5
Cameroon
$16,000,000