Our People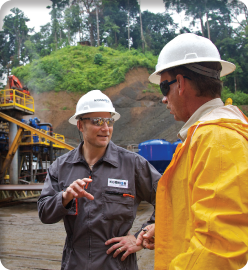 Kosmos is a relatively small company with a fast-paced, collaborative work environment and a high level of employee engagement. From 2011 to the start of 2015, Kosmos grew from 124 to 256 employees. We continue to grow and be challenged by attracting, hiring and developing the talent we need. We are determined to incorporate the ideas and experiences new employees bring to our organization while retaining our unique culture and upholding our Business Principles.
We strive to recruit the most appropriately skilled individuals and to provide stimulating and rewarding careers. We offer highly competitive compensation and benefits as well as a promote-from-within philosophy that provides excellent growth and development opportunities and supports our high retention rates.
We do not tolerate unfair discrimination at Kosmos, including on grounds of age, gender, race, religion or sexual orientation. We will seek to promote diversity in our workforce both because it is the right thing to do and because it gives us access to the widest range of talents. We make an effort to recruit, hire and develop local talent for our international operations, and we recruit internationally for technical positions throughout our organization.
We are committed to investing in the development of our employees and provide frequent opportunities for skills training and leadership development. Where openings exist, we will seek to employ suitably qualified individuals from the countries in which we operate. We provide development opportunities to employees hired into our local offices through assignments in our Dallas office, enabling them to assume greater responsibility and handle the increasingly complex work that we are moving to the local country offices. Our ultimate objectives are to equip our employees to be successful in any position they may hold throughout their career and to support their overall career aspirations.
Human Resources
The data on our workforce is point-in-time as of December 31, 2016. We prioritize hiring and training local staff from the countries in which we work. The 'Local Employment' metric does not include employees in our U.S. office, and we define Expatriates as employees in our local country offices who are living and working on a long term assignment in a country not of their origin. Turnover includes voluntary turnover in our U.S. office in Dallas, TX as well as in our global operations.
Human Resources
2014
2015
2016
Employees and Hiring
Total Employees
234
256
267
New Hires
31
54
27
Turnover
5%
7%
6%
Total Employees by Country
United States
155
187
192
Ghana
46
43
45
Mauritania
5
5
10
Morocco
24
16
5
São Tomé and Príncipe
0
0
1
Senegal
0
1
10
Suriname
4
4
4
Contractors
United States
54
28
14
Ghana
2
0
0
Mauritania
4
16
11
Morocco
76
3
1
São Tomé and Príncipe
0
0
1
Senegal
0
6
3
Suriname
0
0
0
Local Employment
Local
88%
94%
92%
Expatriate
12%
6%
8%
Workforce Gender Distribution
Female
Male
Female
Male
Female
Male
United States
34%
66%
32%
68%
33%
67%
Ghana
27%
73%
28%
72%
27%
73%
Mauritania
60%
40%
60%
40%
30%
70%
Morocco
38%
62%
50%
50%
40%
60%
São Tomé and Príncipe
0%
0%
0%
0%
0%
100%
Senegal
0%
0%
0%
0%
50%
50%
Suriname
25%
75%
25%
75%
25%
75%