Human Rights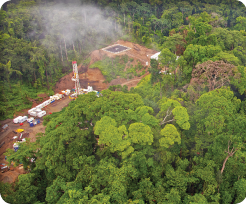 At Kosmos, human rights is not an abstract concept. We established a Human Rights policy in 2012 as a framework for ensuring that our behavior toward employees, contractors and external stakeholders is both responsible and respectful. It is designed to foster conditions in which human rights are preserved. The value created by our activities helps empower individuals and communities to realize their rights in areas like access to healthcare, education and clean water.
Many of the countries that we enter are new to oil and gas exploration and are sometimes unprepared for this activity, as evidenced by the lack of administrative capacity, governance structures and institutional strength that are necessary for sustainable energy development. In some instances, development of natural resources occurs against a background of pre-existing tensions, or it may trigger conflicts related to the distribution of benefits. In addition, the social and environmental footprint of our activities has the potential for significant direct and indirect impacts upon local communities.
A failure to manage these issues may negatively impact individuals and the societies where we work, damage Kosmos' reputation and relationships with stakeholders, create complex legal liabilities and cause disruption to our business. Adopting a proactive approach to human rights is good risk management. To ensure that we understand the nature of our impacts on human rights, we will conduct due diligence and engage with stakeholders on a regular basis. Where we identify potential impacts, we will also identify ways to avoid or mitigate them.
Kosmos has made important commitments in relation to human rights and conflict risk. We have begun to implement the Voluntary Principles on Security and Human Rights, and we have joined the Business and the Human Rights Roundtable at the Fund of Peace. We are also seeking to apply the relevant sections (i.e. those addressed to the private sector) of the U.N. Guiding Principles on Business and Human Rights, which was adopted unanimously by the United Nations Human Rights Council in 2011.
Kosmos joined the United Nations Global Compact in 2013. Kosmos is committed to making the Global Compact and its principles part of the strategy, culture and day-to-day operations of our company, and to engaging in collaborative projects which advance the broader development goals of the United Nations, particularly the Millennium Development Goals. Our 2013 Corporate Responsibility Report serves as our annual Communication on Progress (COP), which outlines our efforts to implement the ten principles of the UN Global Compact.