HSES Management System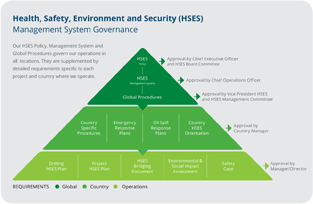 In support of our commitment to health, safety and the environment, Kosmos has instituted a companywide Health, Safety and Environment Management System, which applies to all Kosmos personnel and contractors in our business. This Management System establishes and communicates expectations in broad management categories including safety and health, risk management, emergency preparedness, and environmental protection. Specific goals and targets for each element are benchmarked and measured to track the company's performance. Our Board of Directors oversees our HSES Performance and Management System implementation. Kosmos sets annual HSES objectives and holds frequent meetings to review our key performance indicators and monitor our progress.
Kosmos is also committed to conducting our business in an ethical manner, complying with all applicable laws and regulations. We value our partnerships with national governments and other industry players.