Community Impact
A Commitment to the Community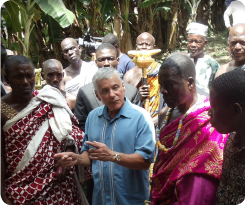 As significant as our commitment to finding oil and gas, we are also highly focused on benefiting the communities where we do business, improving lives through sustainable education, health care and various development initiatives. In each community where we operate, we are making considerable investments in the local economy. We also hire and train local residents, as well as help develop indigenous energy-related organizations. This helps these nations build legacies of oil and gas expertise that will create substantial value for local communities decades into the future.
Kosmos Cares
Kosmos actively supports efforts such as health care initiatives and educational programs. Some examples of how Kosmos cares:
Kosmos Energy Ghana partnered with Safe Water Network in late 2012 to construct water stations that will serve several communities. The program will provide clean drinking water and health and hygiene education to over 20,000 people in the Western region of Ghana.
Kosmos and Ghana's Ministry of Environment, Science and Technology conducted a training course focused on key responsibilities of oil spill management for governmental and industry stakeholders. The course provided trainees with knowledge to make practical, real-time decisions regarding shoreline protection and treatment.
In the Western Region of Ghana, Kosmos launched and completed the rehabilitation of two healthcare facilities at Axim and Ewuku, in order to improve upon local community access to primary healthcare and critical medical resources.
Kosmos donated 22,000 books to schools in Ghana as part of our "Building Communities through Education" program.
Kosmos donated equipment to the Republic of Ghana's Navy to enhance the safety and security of Ghanaian waters.
Kosmos commissioned the construction of a reinforced fiberglass boat to facilitate medical outreach to communities in Ghana.
Kosmos provided medical equipment, including medical waste incinerators, a blood bank refrigerator and infant weighing scales for health care facilities in Ghana.