Western Sahara - Oil and Gas Exploration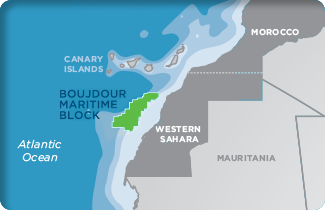 Boujdour MAritime:
A Unique Opportunity
Since 2006, Kosmos has held rights to explore offshore Western Sahara under a petroleum agreement with the Office National des Hydrocarbures et des Mines ("ONHYM").
In October 2013, we entered into a farm-out agreement covering the Boujdour Maritime area with Capricorn Exploration & Development Company Limited, a wholly-owned subsidiary of Cairn Energy PLC to partner with us on this project.
The Boujdour Maritime contract area is located in the Aaiun Basin, an under-explored Cretaceous basin along the Atlantic Margin. The region shows significant exploration potential supported by multiple independent play concepts and fairways.
We have defined multiple prospects through ongoing 3D seismic interpretation.
Key Stats
Boujdour Maritime
Participating Interest:
55.0%, operated
Location:
Northwest Africa, Atlantic Ocean
Size:
7.3 million gross acres
Water Depth:
165 - 9,850 feet
More Information ON KOSMOS' ACTIVITIES IN WESTERN SAHARA
To provide stakeholders with a more complete view of our activities in Western Sahara, we have created a separate website, www.kosmosinwesternsahara.com, to share information about our full range of activities related to exploration offshore the territory.
Investing in the Non-Self-Governing Territory of Western Sahara
We are aware that some have reservations about any foreign investment in Western Sahara due to the disputed geopolitical status of the territory. The United Nations Legal Advisor's Opinion in 2002 made clear that Morocco is the de facto administering power of the territory and establishes parameters for responsible resource development.
As our position statement on hydrocarbon development offshore Western Sahara explains, Kosmos' current activities are focused solely on exploration and do not involve the removal of resources. Our activities have yet to provide conclusive evidence as to whether hydrocarbon resources are present in sufficient quantity to justify development. We believe, however, that if exploration is successful, responsible resource development in Western Sahara has the potential to create significant long-term social and economic benefits for the people of the territory.