Suriname - Oil and Gas Exploration
Exploring New Basin Potential
In December 2011, Kosmos secured a position offshore Suriname, marking our first portfolio expansion beyond Africa. This position provides an exciting opportunity to explore the Upper Cretaceous stratigraphic play type along the northeast margin of South America. Industry results in the same geographic region, the Suriname-Guyana Basin, have proven the potential for significant hydrocarbon discovery.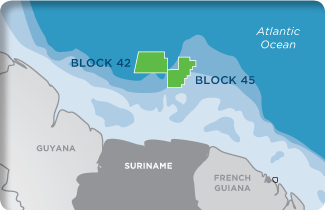 Blocks 42 and 45
Kosmos holds a 33% working interest in Block 42 and a 50% working interest in Block 45 offshore Suriname.
We signed a joint exploration agreement with Chevron in mid-2012 joining our expertise with Chevron's industry-leading technologies to accelerate exploration. In 2016, Kosmos entered into a farm-out agreement with Hess covering Block 42.
Our ongoing work in the basin focuses on maturing a number of significant prospects toward drilling. 
Key Stats
Block 42
Participating Interest:
33%, operated
Location:
Suriname-Guyana basin, Northeast South America
Size:
6,176 square kilometers
Water Depth:
1,800 - 2,700 meters
Block 45
Participating Interest:
50%, operated
Location:
Suriname-Guyana basin, Northeast South America
Size:
5,126 square kilometers
Water Depth:
200 - 2,000 meters