Senegal - Oil and Gas Exploration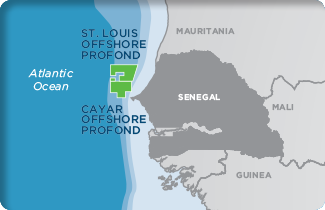 Cretaceous Play Extension Opportunity
Acquired in August 2014, our acreage in Senegal is adjacent to, and on trend with, our blocks in Mauritania. It offers a significant Cretaceous play extension opportunity and enables integrated exploration of the deep water part of the Senegal River Basin, where we see tremendous potential based on proprietary 3D seismic surveys.
Guembeul-1
Completed in early 2016, the Guembeul-1 exploration well offshore Senegal encountered 101 meters (331 feet) of net gas pay in two excellent quality reservoirs, including 56 meters (184 feet) in the Lower Cenomanian and 45 meters (148 feet) in the underlying Albian. Guembeul-1 was the second well drilled in the Greater Tortue area.
Teranga-1
In May 2016, Kosmos announced that its Teranga-1 exploration made a second major gas discovery offshore Senegal. Located in the Cayar Offshore Profond block approximately 65 kilometers northwest of Dakar in nearly 1,800 meters of water, the Teranga-1 well was drilled to a total depth of 4,485 meters. The well encountered 31 meters (102 feet) of net gas pay in good quality reservoir in the Lower Cenomanian objective. Well results confirm that a prolific inboard gas fairway extends approximately 200 kilometers from the Marsouin-1 well in Mauritania through the Greater Tortue area on the maritime boundary to the Teranga-1 well in Senegal.
Key Stats
Cayar Offshore Profond
Effective working Interest:
32.51%, operated*
Location:
West Africa, Atlantic Ocean
St. Louis Offshore Profond
effective working INTEREST:
32.51%, operated*
LOCATION:
West Africa, Atlantic Ocean
*After completion of the exercise in December 2016 of an option to acquire an additional 5 percent participating interest from Timis Corporation in consideration for a future carry on a well in Senegal.