Morocco - Oil and Gas Exploration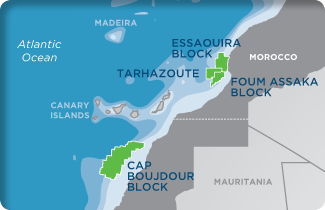 Significant New Play Opportunities
Kosmos has established a leading acreage position for oil and gas exploration offshore Morocco. The company's offshore Morocco position, which totals approximately 14 million gross acres, is a post- and pre-salt Cretaceous play opportunity with substantial running room. The region contains evidence of a working hydrocarbon system, with oil shows in prior onshore and offshore drilling, as well as existing oil and gas production onshore Morocco.
Agadir Basin
Kosmos has secured a premier position in the offshore Agadir Basin operating three large blocks: Essaouira, Foum Assaka, and Tarhazoute. The Agadir Basin is an underexplored basin with a variety of exploration plays, including our core geologic theme in the late Cretaceous formation. In addition, the Agadir Basin is a salt basin that provides significant hydrocarbon trapping opportunities. We are processing and interpreting 3D seismic data from our 2012 data acquisition as we mature the substantial prospectivity on the blocks. The company is planning for initial exploration drilling as early as late 2013.
Cap Boujdour
The Cap Boujdour Block is located offshore Western Sahara in the Aaiun Basin, one of the remaining frontier exploration provinces offshore Africa. This is an underexplored region offering Cretaceous targets with multiple independent play fairways. We are maturing the substantial prospectivity on the block from prior seismic acquisition.
Key Stats
Essaouira
Participating Interest:
30.0%, operated
Location:
Northwest Africa, Atlantic Ocean
Size:
2.9 million gross acres
Water Depth:
0 - 9,850 feet
Foum Assaka
Participating Interest:
29.9%, operated
Location:
Northwest Africa, Atlantic Ocean
Size:
1.2 million gross acres
Water Depth:
985 - 6,890 feet
Tarhazoute
Participating Interest:
30.0%, operated
Location:
Northwest Africa, Atlantic Ocean
Size:
1.9 million gross acres
Water Depth:
3,250 - 8,200 feet
Cap Boujdour
Participating Interest:
55.0%, operated
Location:
Northwest Africa, Atlantic Ocean
Size:
7.3 million gross acres
Water Depth:
165 - 9,850 feet