Morocco - Oil and Gas Exploration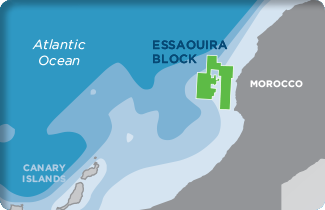 Significant New Play Opportunities
Kosmos' position offshore Morocco (including Western Sahara) provides multiple play types with substantial running room. The region contains evidence of working hydrocarbon systems, with oil shows in prior onshore and offshore drilling, as well as existing oil and gas production onshore Morocco. We signed farm-out agreements for these positions with BP for the Essaouira block, and with Carin Energy for the Boujdour Maritime block. Our ability to secure industry-leading partners validates the quality of our Moroccan portfolio.
Agadir Basin
We hold an interest in the Essaouira block in the offshore Agadir Basin, which is an underexplored basin with a variety of exploration plays, including our core geologic theme in the late Cretaceous formation. In addition, it is a salt basin that provides significant hydrocarbon trapping opportunities.
Boujdour Maritime
The Boujdour Maritime block, located offshore Western Sahara in the Aaiun Basin, is an underexplored Cretaceous basin along the Atlantic Margin. The region shows significant exploration potential supported by multiple independent play concepts and fairways.
Key Stats
Essaouira
Participating Interest:
75.0%, operated
Location:
Northwest Africa, Atlantic Ocean
Size:
8,786 square kilometers
Water Depth:
0 - 3,000 meters
Boujdour Maritime
Participating Interest:
55.0%, operated
Location:
Northwest Africa, Atlantic Ocean
Size:
22,268 square kilometers
Water Depth:
50 - 3,000 meters