Mauritania - Oil and Gas Exploration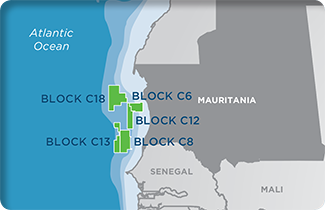 PURSUING CORE GEOLOGIC THEME
Kosmos' position offshore Mauritania is a significant extension of the Company's core geologic concept, the Upper Cretaceous stratigraphic play system, which Kosmos unlocked in the Tano Basin offshore Ghana. The Company's Mauritania position, in the northwestern part of Africa, is in the proven offshore Mauritania salt basin, where multiple oil and gas discoveries have been made and oil production currently exists.
BLOCKS C8, C12, and C13
Kosmos has signed three production sharing contracts over blocks C8, C12, and C13, a contiguous area of approximately 6.6 million gross acres. The Company is currently acquiring 2D seismic over the entirety of the blocks and anticipates commencing a large 3D acquisition in the middle part of 2013. First drilling could take place as early as 2014-2015.
Key Stats
Block C8
Location:
Northwest Africa, Atlantic Ocean
Size:
2.9 million gross acres
Water Depth:
3,110 - 9,020 feet
Block C12
Location:
Northwest Africa, Atlantic Ocean
Size:
1.7 million gross acres
Water Depth:
4,920 - 8,040 feet
Block C13
Location:
Northwest Africa, Atlantic Ocean
Size:
1.9 million gross acres
Water Depth:
9,020 - 9,850 feet