Ghana - Oil and Gas Development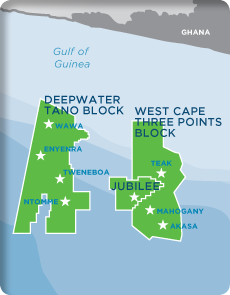 Foundation for Growth and Upside
Early in its life, Kosmos identified the Tano Basin offshore Ghana as a potential premier hydrocarbon system. Previous industry drilling had failed to deliver significant success offshore Ghana. However, Kosmos' vision and differentiated approach to exploration led to important discoveries and proved the overlooked Upper Cretaceous stratigraphic play concept.
Existing Production: Jubilee
Kosmos' Jubilee discovery in 2007 was the company's first major discovery and one of West Africa's largest discoveries of the last two decades. First production from the initial development phase was in late 2010. The company and partners are implementing the next phase of development, Phase 1A, to further develop the field and sustain production at facility capacity. Current production is approximately 110 thousand barrels of oil per day, with studies ongoing to increase production to new records. Jubilee is a world-class, long-life production asset.
Additional Near-Term Developments
Success at Jubilee led to a number of follow-on oil and natural gas condensate discoveries on the West Cape Three Points and Deepwater Tano blocks. At the Deepwater Tano block, the company finalized development studies for the Tweneboa/Enyenra/Ntomme (TEN) fields and submitted a declaration of commerciality and Plan of Development for a second offshore oil project late in 2012. Initial oil production for the TEN discoveries is planned for 2016. In early 2012, Kosmos achieved drilling success when it discovered oil and gas-condensate at the Wawa exploration well on the Deepwater Tano Block. On the West Cape Three Points Block, Kosmos and partners are continuing appraisal activities for the discoveries at Mahogany/Teak/Akasa in order to determine the optimal development for these fields. These discoveries provide a defined outlook for growth for Kosmos and the country of Ghana.