Cote d'Ivoire - Oil and Gas Exploration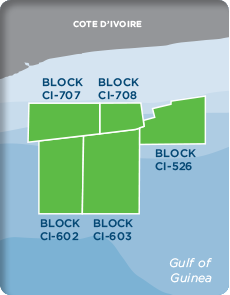 In late 2017, Kosmos acquired five blocks offshore Cote d'Ivoire as part of a second cycle exploration drive back into the Transform Margin of Africa and the Gulf of Guinea.
As an extension of the Tano Basin in Ghana, which the Kosmos exploration team opened with the Jubilee discovery in 2007, offshore Cote d'Ivoire provides an opportunity for Kosmos and its partner BP to execute a frontier/emerging basin exploration strategy and pursue new technical themes.
Kosmos and BP have acquired an equal 45%-45% working interest in five contiguous blocks covering approximately 17,000 square kilometers. Petroci, the national oil company of Cote d'Ivoire, has a 10% working interest in the blocks. Kosmos is the exploration operator and BP will be the development operator.
Kosmos and BP are committed to fund and acquire a new 3D seismic program over the blocks totaling 12,000 square kilometers during the first 3-year phase.
Key Stats
Participating Interest:
45%
Location:
West Africa, Gulf of Guinea
Size:
17,000 square kilometers