Cameroon - Oil and Gas Exploration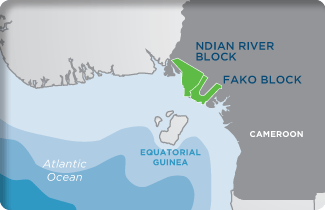 Extending Proven Fairways
Kosmos is exploring onshore extensions of proven deepwater oil and gas fairways in the Republic of Cameroon. The company's acreage position onshore Cameroon is the equivalent of more than 200 deepwater Gulf of Mexico blocks.
Ndian River Block
The Ndian River Block is a Niger River Delta play bordering the Rio del Rey Basin, long established as productive. Previous oil and gas drilling offshore in the region has confirmed the existence of a significant working hydrocarbon system. Kosmos is focusing on the underexplored northern extension of the late Cretaceous/lower Tertiary turbidite play. Results from the Sipo-1 well, located on the Liwenyi prospect, are being integrated into the Company's geologic models. The well encountered both oil and natural gas while drilling, evidencing a working hydrocarbon system on the block.
Fako Block
The Fako Block borders to the southeast the company's Ndian River Block and straddles the proven Rio del Rey and Douala Basins, both of which contain significant working hydrocarbon systems.
Key Stats
Ndian River Block
Working Interest:
100%, operated
Location:
Rio del Rey Basin, Gulf of Guinea
Size:
434,000 gross acres
Fako Block
Working Interest:
100%, operated
Location:
Rio del Rey Basin, Gulf of Guinea
Size:
319,000 gross acres