Putting Advanced Technology to Work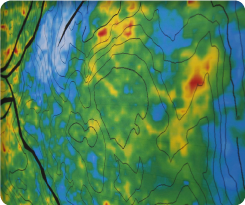 Kosmos utilizes the most advanced technology in its efforts to find, access and produce oil and gas. We believe leading-edge technology in the hands of the best explorers in the industry is a recipe for success. We are making significant investments in exploration technology, including 3D seismic acquisition and, processing. Our emphasis is to ensure the highest quality seismic data using state of the art acquisition techniques, along with the latest advancements in seismic processing. Interpretation of seismic data is performed in-house on state of the art workstations using the latest interpretation software.
In addition to seismic data, Kosmos utilizes an array of advanced technology such as Controlled Source Electromagnetic surveys, Gravity Gradiometry and Magnetic surveys. All available technology is utilized and integrated to ensure success.