A Premier Oil & Gas Exploration Company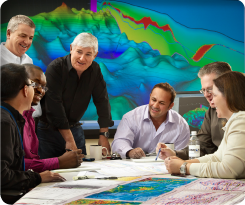 Kosmos is a premier international oil and gas exploration and production company focused on the frontier. Our primary areas of operation are underexplored regions along the Atlantic Margin. We focus on unlocking new hydrocarbon systems and growing and maturing discovered basins through follow-on exploration success, development and production.
We are pathfinders with proven technical expertise and an empowering, contrarian spirit. We are successful in finding and developing oil and gas, and in striking a new balance between risk and reward. These qualities have allowed us to explore areas other companies thought were too risky compared with potential rewards – like offshore Africa where we found the massive Jubilee Field in Ghana's deep waters.
Our asset portfolio includes existing production and major project developments offshore Ghana and Equatorial Guinea, as well as oil and gas exploration licenses with significant hydrocarbon potential offshore Mauritania, Senegal, Suriname, São Tomé and Príncipe, Equatorial Guinea, Morocco and Western Sahara.
Kosmos also finds the right balance in our relationships with the governments and countries where we operate, working with them to transform natural resources into national resources, enhancing lives. And we partner well with others in our industry. These skills are paramount to our ability to safely and efficiently conduct the ongoing development that follows discovery.